Magento CRO Services
6x
Increase in Retail Revenue
2x
Increase in Mobile Revenue
2.9x
Increase in Unique Purchases
Dakine
Optimization for Maximum Performance
Dakine's eCommerce site was hampered by a dual-CMS implementation with many bugs. To increase conversions rates, we needed to optimize how Dakine manages content throughout their system and process. We streamlined the system into a single CMS, updated the frontend with new responsive designs, and improved on-page SEO capabilities.
Explore Case Study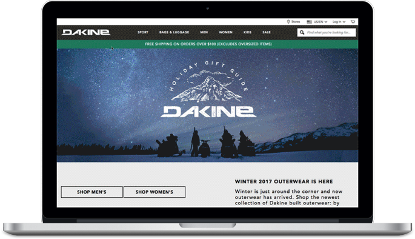 37%
Mobile Conversions Up 37%
31%
Average Time on Site Up 31%
Sexyhair
A Mobile-First Brand Experience
With more than 50% of Sexy Hair's user base comprised of mobile customers, we developed a truly mobile-first eCommerce platform built from the ground up, delivering seamless brand and product discovery on any device. The results speak for themselves as mobile conversions increased by 37%.
Explore Case Study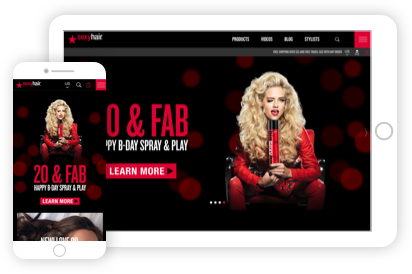 92%
Increase in Conversion Rates
71%
Increase in Page Views
Schutt
Customized product builders
The old Schutt Sports website looked dated and had a confusing flow. Limited product customization options resulted in users not see an accurate visualization of what their purchases. We completely revamped the product organization and user experience by drawing customers in with interactive features. Schutt saw conversion rates increase by 92%.
Explore Case Study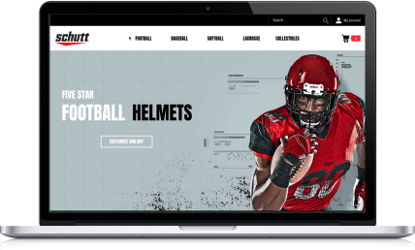 eCommerce CRO Rooted in Data
is at the core of any successful growth strategy.
At Forix, we evaluate the unique user behaviour on your very own landing pages to continually improve user experience and grow facets of your business. eCommerce conversion optimization involves user testing and targeted A/B tests to evaluate the impact your website has on individuals. Forix understands the intricacies of the Magento platform because we've dedicated ourselves to complete Magento site optimization for the last decade. By conducting various forms of user testing, we'll formulate a strategy to improve conversions, leads and time spent on site.

Beat your competition with conversion optimization
Forix Growth Formula
Conversion rate optimization (CRO) boils down to a method where iteration is key. We rinse and repeat, then track and adapt.
RESEARCH AND ANALYTICS
Data is the driver

In depth analytics review

Heat mapping reports

Competitor analysis

Code audit

Technical SEO audit
OPPORTUNITY SPOTTING
Identify easy gains

Establish growth targets

Find competitor weaknesses

Build plan of attack

Find out where you stand

Separate buyers from shoppers
UX / SEO
Fixing the leaks

Step reduction

Speed improvements

Mobile optimization

Site search

UX simplifications
IMPLEMENTATION / QA
Quality development teams

Extensive checklists

Dedicated account managers

Consistent communication

Fast sprint cycles

Established testing protocols
Ready to optimize your Magento site for improved conversions?
As a certified Magento 1 and Magento 2 partner, we have helped hundreds of companies see impactful and profitable results through conversion rate optimization (CRO). When you partner with Forix, our experts are at the ready to ensure your eCommerce business is growing and converting. Reach out to a Magento Managed Support specialist to start the conversation.
Not Ready to Take the Leap?
We Offer Managed Services
LEARN MORE
Don't take our word for it…
I've worked with the top agencies in the country and Forix's UX design has been the best I've ever worked with.

- Sophia Stuart. PC MAGAZINE -
A beautiful web design causes visitors to come to your site and look around. However, what happens after that? How do you increase your eCommerce conversion rate optimization? At Forix, our team shows dedication in helping you increase eCommerce conversion rate data for your business. Our Magento managed support options provide all the support you need to increase conversion rate data, putting your business in a place for success.
eCommerce Conversion Rate Optimization Experts
Here at Forix, we don't just leave eCommerce conversion rate optimization up to chance. Instead, we carefully plan how to help your customers get the most out of your website while helping you to achieve your business vision with Magento performance optimization. Our goal is to increase your eCommerce conversion rate optimization, leading to more sales and bigger profits. Forix is the top Magento agency, with more than 750 successful website launches in our portfolio with Magento performance optimization and eCommerce conversion rate optimization. We have over 200 dedicated employees who carry a combined 60 certifications in the latest Magento website development. Top all of our conversion rate optimization (CRO) experience off with Magento ongoing support and you will have the best website in the business. The goal of almost every business model is to turn up the volume for eCommerce conversion rate optimization on revenue with increase conversion rate numbers. With more revenue, a business can only get bigger and more profitable. How can you take your business to the next level? It's time to discuss your eCommerce conversion rate. To start, let's understand eCommerce conversion rate optimization. Your eCommerce conversion rate is the percentage of people who come to your website and complete a specific task. In eCommerce, the specific task is usually making a purchase from your store. A good conversion rate optimization (CRO) is actually 1-2% of your total site traffic. This may seem low, but if you think about a brick and mortar store, not every visitor is going to make a purchase. The first couple of times, visitors poke around the site trying to get an idea of the products you carry. From there, they can decide to complete the purchase, which will increase conversion rate, or they may opt to look elsewhere. What you offer your customers distinguishes your business from the competition and ultimately gets them to complete the sale. That's where the art of Magento performance optimization and eCommerce conversion rate optimization comes into play. Magento performance optimization looks, it does not mean customers are automatically going to make a sale. While the design is just one piece of the puzzle, there are many other things behind a successful conversion rate optimization (CRO). Your eCommerce conversion rate in an online store is typically the desired action of completing a sale. However, that is not all that visitors can do on your site. They can also:
Connect and sign up for your mailing list
Follow your company on social media
Share a product on social media
Add a product to the cart
Add an item to a wish list
Completing some of these secondary actions can lead to a sale in the end, making it worth the effort you put forth to increase conversion rate. Magento performance optimization plays a large part in these actions but is not the end of the line. In order to beat your competition and increase eCommerce conversion rate optimization, you need to have a grasp on your business niche. What type of customer are you trying to reach and how are you going to reach them? Some businesses choose to turn their focus on low pricing, drawing in customers with the promise of a deal. This helps to increase conversion rate numbers. Other businesses offer a luxury boutique feel, giving customers a feeling of exclusivity and specialized products. Some of this will depend on what type of products you sell. If you offer one-of-a-kind products, you can't really offer the lowest prices while still experiencing eCommerce conversion rate optimization. If you sell the same products as other retailers, you need to step outside the box and figure out how you are going to set your offerings apart from your competition in order to get ahead with eCommerce conversion rate optimization. Make your shoppers want to shop with you and they will return every time they need something because of their previous satisfying experience. Return shoppers mean a higher eCommerce conversion rate for your business. Forix Growth Formula
"Conversion rate optimization (CRO) boils down to a method where iteration is key. We rinse and repeat, then track and adapt"
Conversion rate optimization (CRO) and eCommerce conversion rate is repetitive. In order to gather information, we need to speak with many different sources and perform several different research tactics to gain an understanding of not only your business, but also the businesses in direct competition with your brand. From there we can develop a strategy of how to proceed. Steps forward in conversion rate optimization (CRO) happen in succession and often the process needs repeating. Our Magento managed support team researches, uses what we learned to improve the design, launches your site, and then heads back to research to find out how it impacts your eCommerce conversion rate optimization. Not only is your business evolving, but the web is too. Search engines like Google change up the criteria for techniques like SEO at regular intervals, developing new algorithms to play with eCommerce conversion rate optimization. Our top Magento agency with Magento ongoing support spends time tracking and staying on top of these latest changes so that you don't have to. It's a full-time job keeping track of the latest security patches for your Magento website. Work smarter by letting Forix and our Magento managed support take care of everything for you. With Magento ongoing support on your side, you can rest assured someone will be watching your website at all times, ensuring there will be no breaches in security or site crashes. With smooth sailing for your customers, you have nothing to fear and your eCommmerce conversion rate optimization will come naturally. By constantly rinsing and repeating the research to development process, we'll keep your site at the top of the pack, increasing your eCommerce conversion rate. Consider how much time you will gain by hiring the best Magento agency for Magento managed services and an increase in eCommerce conversion rate optimization. We'll keep your site in top shape so you can get back to doing the things you love most in your business. Research and analytics Your eCommerce conversion rate optimization, calculated by our Magento ongoing support, takes the number of visitors to your website and dividing it by the number of conversions. To calculate your sales conversion, you would divide the number of visitors by the number of sales. There are general eCommerce conversion rate optimization formulas for your whole site, and then you can break the data down even further to figure out eCommerce conversion rate optimization for specific products or services, or certain actions on your website. To calculate the eCommerce conversion rate for a particular product, Magento managed support takes the number of people who visited the page of the particular product and divide that number by the number of sales for that particular product. You can also calculate conversion rates for different actions on your site. For example, the number of site visitors divided by the number of email subscribers equals the conversion rate for your email list. Data is the driver for conversion rate optimization (CRO). By understanding where your visitors are coming from, how long they are looking at a particular portion of your site and their ultimate response, you can better understand how to turn all of those views and clicks into more sales for your business. While this may sound like a complicated process, Forix has been studying eCommerce conversion rate for years and knows how to increase conversion rate optimization (CRO) for growth in your business. We use tools like heat mapping reports to show how visitors are using your site. Heat mapping often opens up insight into better placement of Magento website features and easier navigation for your customers. Magento managed services already know that important content should sit near the top of the website to grab attention, but did you know that your visitor's attention also increases at the very bottom of the page? By using these reports, we can help your visitors get the website experience they desire. We also look at the competition. In order to understand where you rank for conversion rate optimization (CRO), you need to understand which of your competitors pose the greatest threat. The number one way online consumers purchase a product is with product comparison. They find a product and then compare it to other similar products online. Sometimes the best quality wins out, while other times price is the determining factor. By performing a detailed analysis of the competition, you can determine a plan of action to get ahead of your competition in the field Toggle screen reader support and keep your customers coming back to your Magento website, to ultimately increase eCommerce conversion rate numbers. Another helpful tool when designing a website is a code audit. The trained team at Forix will look at your website to perform an analysis of the code used to build your website. This source code is not only responsible for the framework of your eCommerce store, but also site security, visitor experience, bugs in the system and website stability. All of these features add up to a well-performing site. Magento performance optimization with a code audit ensures increase conversion rate statistics because your visitors will have a seamless viewing experience While traditional SEO focuses on the content of your Magento website, technical SEO looks at the working aspects of your page. Think outside links, in-site links, speed, mobile optimization and more. All of the technical SEO aspects make the search engine spiders more likely to crawl your page and put it higher in the rankings, driving more traffic to your page.  Forix will perform and complete technical SEO audit on your site to make sure your website is at peak performance. More high-quality traffic leads to eCommerce conversion rate optimization. Opportunity Spotting It is important to recognize an opportunity when it comes across your path. Forix knows the importance of your eCommerce conversion rate and looks to take any opportunity we can to grow your business. We'll start with the easy gains from our initial site audit. These may be small changes, but they will add up to huge victories. In order to grow, there needs to be a target number to hit. Many companies who offer Magento performance optimization give a generalized promise of growth with no numbers to back up the data. We'll start out with small increases and aim to keep them going as we build new growth opportunities. By actively sharing numbers and data, we can work together to create a plan that brings actual results to your business, not just empty promises of growth. Researching the weaknesses of your competitors gives you a leg up in the business, increasing eCommerce conversion rate optimization. The first step is to determine your competitors. There are three main ways:
Ask your customers and your prospective customers what other businesses they shop from for the same products.
Get information from your sales team or account executives about your biggest competitors.
Look at your competitors from the viewpoint of your marketing personas
With all of this information in your hands, it's easy to determine where your competition lies. Forix will use established methods of research to gain a better understanding of the other businesses in your niche and in your category. From surveys to creating specific marketing personas, we'll gain a deeper understanding in order to help your Magento performance optimization. Once you know who they are, you can start to take an in-depth look at their weaknesses. Evaluate your competitor's strategy. How are they targeting the same market? What are they doing that people like or dislike? Ask customers about their experience with another company's website, and you'll be getting to the bottom of their eCommerce conversion rate. Find their weaknesses and aim to make your site better. If you can handle the weakness their site can't customers will come to you for a smoother purchasing experience. An opportunity profile is a great tool to determine the best plan of attack. We will build this portfolio based on the data collected from your site including research on the competition, heat mapping results, the local market, customer surveys, and key weaknesses in your competition's strategy. Once our Magento managed support builds a portfolio, we can take a good look at where your business stands in comparison to those in the same market. We can work together to build your business the strongest website possible, boosting your eCommerce conversion rate optimization. It is important to distinguish your shoppers from your buyers. Though often used interchangeably, the terms mean two completely different things. Buyers come into your store intending to purchase a product. Buyers lead to conversion rate optimization (CRO). Shoppers are looking for inspiration along the way to find the perfect item. Think of a shopper as a mom who ran out of toilet paper. She runs to the store with the intent of buying toilet paper. She is a buyer. After she gets her toilet paper, she remembers her kids have a birthday party this weekend and she needs to get a present. Now she goes shopping to browse for the best option for a gift. She stops at multiple stores to compare pricing and ideal gifts, picking the one that best fits her needs. Shoppers lead to a drop in your eCommerce conversion rate because the result is not always a purchase.  A good rule of thumb is that you probably can't be faster or cheaper than Amazon. So what can you give your customers that Amazon can't? Top Magento agency, Forix, will help evaluate your competitors. We've got the professional tools to conduct the research you need and the Forix Magento managed support to keep your website running at any time of the day or night. We'll help you spot the perfect opportunity to expand your business and boost your conversion rate optimization (CRO). UX/SEO User experience (UX) is now a part of SEO tactics. Google and the other search engines can now rank web pages based on UX as well as SEO. Gone are the days when you could just stuff a page full of keywords and expect to hit the number one spot. Instead, there is now a complex list of factors to consider that will impact your rankings. Knowing this list can really set your website apart from the competition, helping to boost your conversion rate optimization (CRO). Here's a look at some of the key features to watch for maximum impact:
Proper use of headings (<h1>, <h2>, <h3>, <h4>, <h5>, <h6>)
Easy site navigation for visitors
Customer reviews and star ratings
The speed of your site
Mobile optimization
Let's take a closer look at each of these factors and the way they impact your UX and SEO optimization for your Magento website. Proper Use of Headings Using headings the right way makes it easier for site visitors to locate the information they need. Customers who can find what they need are more likely to complete the purchase, increasing your conversion rate optimization (CRO). There should only be one <h1> tag on any webpage at any time. It tells the search engine the focus of your webpage and helps when displaying search results. The <h1> tag indicates the title of your piece and is usually located at the top of your page. Using keywords in your <h1> tag will also help search engines to rank your page's importance. Other headings down the page should help visitors to locate information. Breaking up topics with individual titles allows the eye to scan down the page and locate the pertinent details. Magento managed services will write the proper headings into the code of your site, making sure Google understands the topic of your page. Another way to help your site visitors find what they are looking for is by adding a search feature to your page. Give visitors the ability to enter important keywords or product names into the search bar, narrowing down the choices. A buyer who comes to your site to purchase light bulbs but can't find them will quickly get frustrated. With the ability to tailor his search results to the product he needs, he will be more likely to come back again in the future when he realizes it was so easy to make a purchase, increasing your eCommerce conversion rate. Magento managed support will help you add a search feature to your web design. Easily let customers search for your products with a series of keywords or product numbers. Easy Site Navigation for Visitors Ease of navigation means menus are not covering half the page, you have a clear way to get to your homepage and to the shopping cart, and a clean sitemap can lead to Google posting sitelinks in your search results. Sitelinks direct visitors directly to the page they need right from the search page, increasing the conversion rate optimization (CRO). They help to bump your competitors down the page, giving your site more traffic. Google's algorithms currently decide which sites get sitelinks and which ones don't, but a clean sitemap is one of the speculated factors. Magento ongoing support works to be sure your sitemap is clear, getting picked up by Google and increasing your chances for sitelinks. Keep your site clean and easy to read for the best UX results. The sites that perform the best have a lot of whitespaces, allowing consumers' eyes to focus on the product, and ultimately leading to increased conversion rate optimization (CRO). Use clear photos of your products, preferably with the ability for shoppers to zoom in on the details. The more you can make an eCommerce shopper feel like they are in the room with the product, the better chance you have of the product selling. Magento managed support can help you with a great design that works for everyone. Customer Reviews and Star Ratings While Google says that there is no correlation between the online ratings and SEO, there seems to be a direct relationship. It is probably because more people click on the five-star rated eCommerce stores than the two-star ratings, and good customer reviews make others consider a store a good place to go shopping. Every click your site visitors make on your website tells Google you are relevant, boosting your eCommerce conversion rate. Google sees every single click and will rank your website based on the amount of interaction your site gets. Therefore, while the ratings may not directly influence your position in the ranks, it will impact the amount of visitor interaction, therefore increasing your eCommerce conversion rate. The Speed of Your Site Studies have shown that if your Magento website takes more than seconds to load, you will have already lost the attention of your visitors. This means they won't even see any of your beautiful web design or the useful content on your page. Instead, they will click the back button and head to a competitor's website. Speed is the key to grabbing their attention in the first few seconds. If your page loads in a few seconds, you'll be ready to go on their schedule. Magento ongoing support from Forix monitors the speed of your website all day, every day. You'll never need to worry about website speed again. Mobile Optimization One in five people is now smartphone dependent. This means they do not have any other way of accessing the internet. Not to mention all of the people who spend most of the day on their phones. Our on-the-go lifestyles in the digital age mean that all content needs to be portable for a better eCommerce conversion rate. If you haven't optimized your Magento website to display on a mobile device, a good portion of your audience won't even tune in. All of these problems are leaks in the UX/SEO pipeline. They cause visitors to trickle away towards your competitors. Focusing on improving and fixing these leaks will boost your eCommerce conversion rate. Forix, the top Magento agency, will help you to fix all of your site's leaks and more. We can help with eCommerce conversion rate optimization with our Magento managed support, available 24/7 to help you manage any aspect of your website. Implementation / QA So how does Forix do it all? We have a dedicated system here at the top Magento agency, designed to get you the web results you are looking for, and a boost in conversion rate optimization (CRO). Out best Magento developer team uses Magento ongoing support to support your business at any time of the day or the night. Here's a quick look at some of the services we are able to provide for our customers. Quality Development Teams Our Magento ongoing support consists of the best Magento developer teams in the business. With over 100 dedicated employees, there is someone available any time you need support. From the smallest issue to a complete site restore, we'll be right there monitoring your site through all hours of the day helping to increase conversion rate data. Each top Magento developer also carries a number of certifications to help them understand and use the latest technology and code languages available. We have access to security updates first, and staying on top of security means more trust with your customers, increasing your conversion rate optimization (CRO). Extensive Checklists Our top Magento agency uses a long checklist of Magento website features before each site goes live. We check for accuracy, leaks, UX, and more. Forix has launched over 750 successful websites with eCommerce conversion rate, which makes us one of the top in the business. Your input as the business owner factors into the checklist before we hit the publish button in order to get the true feel of what your business has to offer. Each account has a dedicated manager to help increase conversion rate optimization (CRO). The top Magento developer is available to speak with you at any time and answer any of your questions. With your own dedicated point person, it is easy to ask questions and to know that someone has a handle on your website at all times. Your dedicated manager will provide consistent communication throughout the process, never leaving you out in the cold. We know how important your website is to your business, and our top Magento agency will do everything we can to have it up and running as quickly as possible, helping to increase conversion rate numbers. Our Magento ongoing support team uses development sprints to gain ground on projects. It's like a brainstorming session that leads to a prototype of your new web design in order to increase conversion rate data. We have fast sprint cycles in order to get you the design updates as fast as we can. The sprint design allows our team to work on your website non-stop until we see progress. With our history of successful launches and web development, our top Magento agency has established testing protocols. We don't need to spend time figuring out how to collect the data. We already have a system that works, and we'll use it to get you the best results too. By using Magento managed support, you'll be gearing up your business for an increase in eCommerce conversion rate optimization.
Don't just take out word for it, with a rating of 4.82 out of 5, see what our clients are saying in
reviews
including:
"The great thing about Forix is that we can come to them with a challenge, or even a loosely defined goal, and they'll figure out how to bring the right technology solution forward."