The race to Magento 2 is in full swing, but there are some important points to consider before an organization dives in.
What Sales Doesn't Tell You About Magento Migrations
This is the most important thing to take away from this article: Magento 2 migrations typically take between six to nine months depending on complexity.
Since Imagine 2017 we've spoken to dozens of merchants who have an M2 migration on their agenda, but there always seem to be more questions than decisions.
• "We're thinking of putting this off until next year…"
• "We talked to XYZ Company and they said it could be done in 4 months…"
• "I've just gotten general quotes, but no one has really looked at our site…"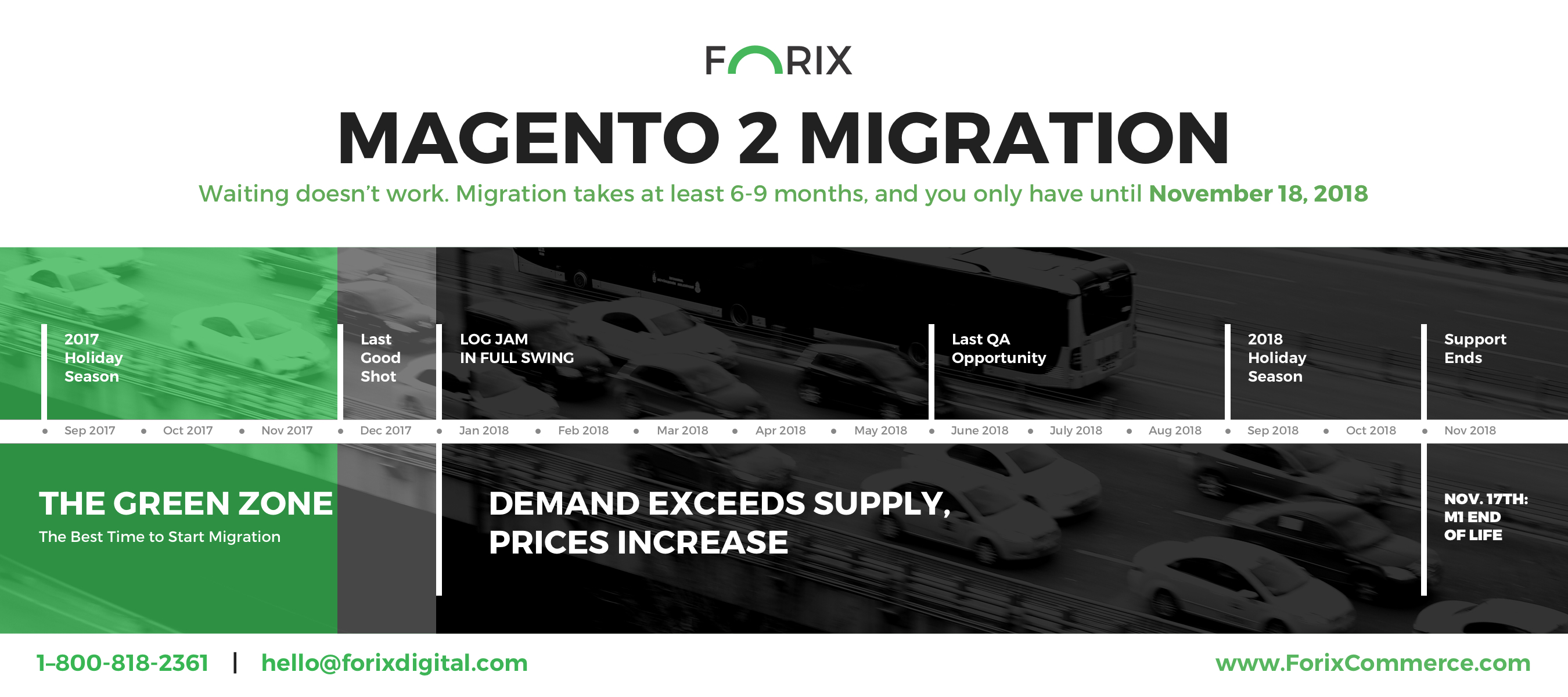 Why Now?
In 2018 there's going to be a shortage in the number of development firms capable of handling Magento 2 migrations compared to the huge demand that's expected. With over 3,000 M1 Enterprise sites operating in North America, and only 37 Enterprise partners in the region available for servicing migrations, a huge rush to the finish line of Nov. 18, 2018 is inevitable.
With the introduction of version 2.1.x came greater stability, and version 2.2 is going to usher in B2B tools. This is the prime time to make the move, but one must be smart about how to time their entry into the M2 platform. Companies that wait just 6 more months will find a logjam of obstacles awaiting them.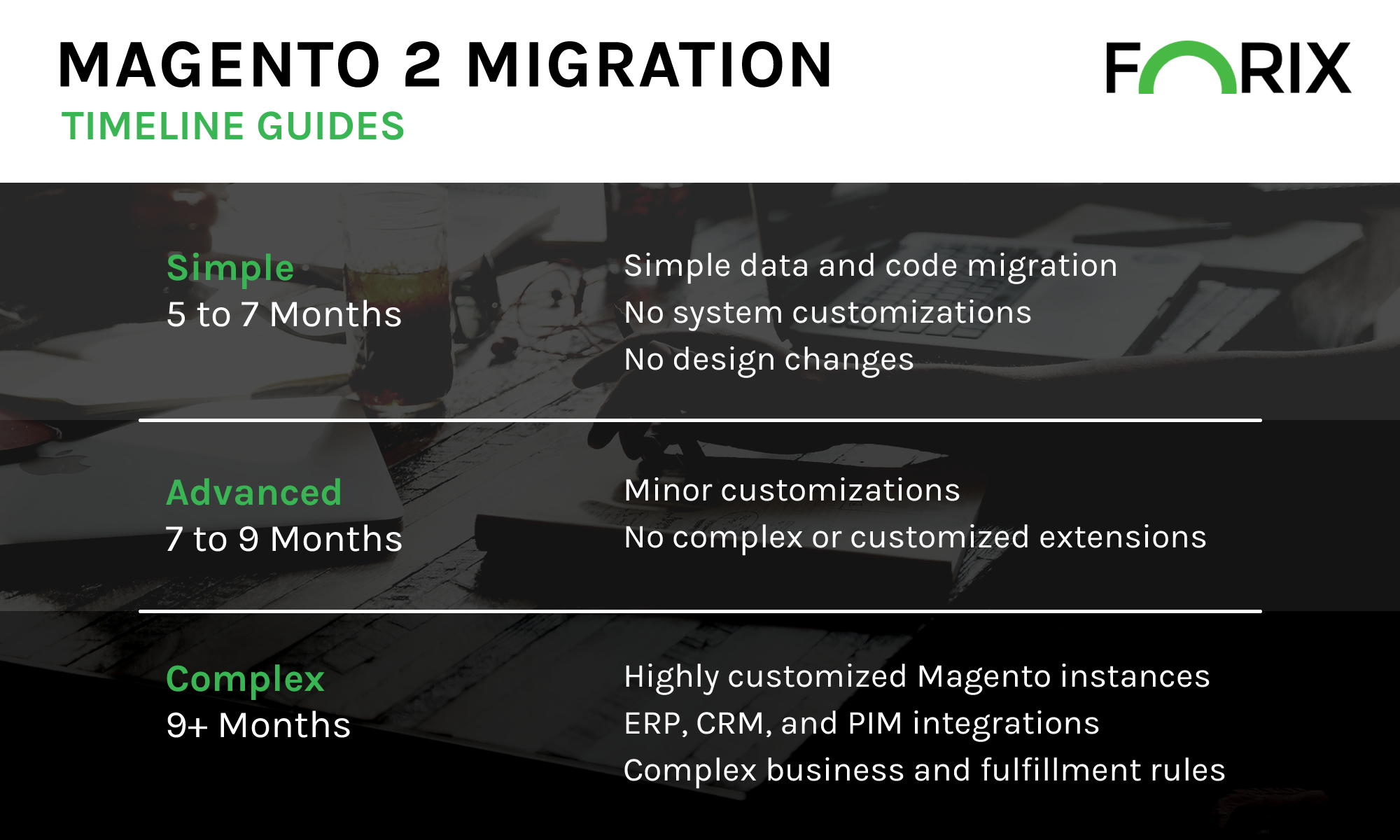 Data and Code Migration Takes 5 to 6 Months, Without Customizations
As mentioned by Magento Masters during Imagine 2017, their estimation for basic data and code migrations come in at five to six months. Remember this is coming from experts that Magento has recognized as the elite, and doesn't represent what a typical development firm may be capable of as well.
A Large Number of Extensions Doesn't Necessarily Mean Complex
It's come as a surprise to some, but having a large amount of extensions installed on your Magento site doesn't necessarily mean it adds significant difficulty and time for a migration. Many extensions for M1 have new streamlined versions available for M2, or are obsolete due to newer features now available out of the box in M2. The biggest caveat here will be if you've had customization done to an extension, which would require assessment on a case-by-case basis.
You Can Streamline Your M2 Migration
Migrations don't have to be complex. There's actually a great opportunity here to conduct an audit of your current site and business systems to see if there's any inefficiencies that can be fixed. Are there customizations that feel obsolete? Are there extensions or sections of the site being underused? If so, perhaps it's worth cutting these things from the new site during the migration. Not only can this potentially reduce the cost and time for your migration, but it could improve your site and business workflows.
Why So Much Variation in the Timelines Quoted?
The simple answer is because many solution partners have less than a few implementations under their belts at this point. Quite a few have none. That is changing quickly, but as with any new code base, the learning curve needs to be factored in. An inexperienced agency may throw a short timeline, because they don't know any better at this point. How do you know when you are getting an honest timeline? Refer to the timeline guide above.
What About Migrating to Other Platforms?
While many of the SaaS providers offer an "enterprise" option, odds are the customizations required for most stores running on Magento cannot be substituted. Of the companies that have transitioned off of Magento to Shopify or Big Commerce, many have had to sacrifice custom functionality in order to compromise to the point of being able to use a SaaS platform.
If those customizations are critical to conversions or back-office workflows, that could be highly detrimental to the company in both lost revenues and inefficiencies resulting from workarounds. Remember, the commerce platform needs to work for the company, and not the other way around.
What's Next?
Still not sure which category your Magento instance falls under? Forix can provide a high-level assessment and basic system scan to help determine what your site migration would require. Call today to get started.