This week at the annual Imagine Conference Magento announced Enterprise Cloud Edition (ECE), a Platform-as-a-Service (PaaS) environment for the Magento 2 e-Commerce platform.
What This Is All About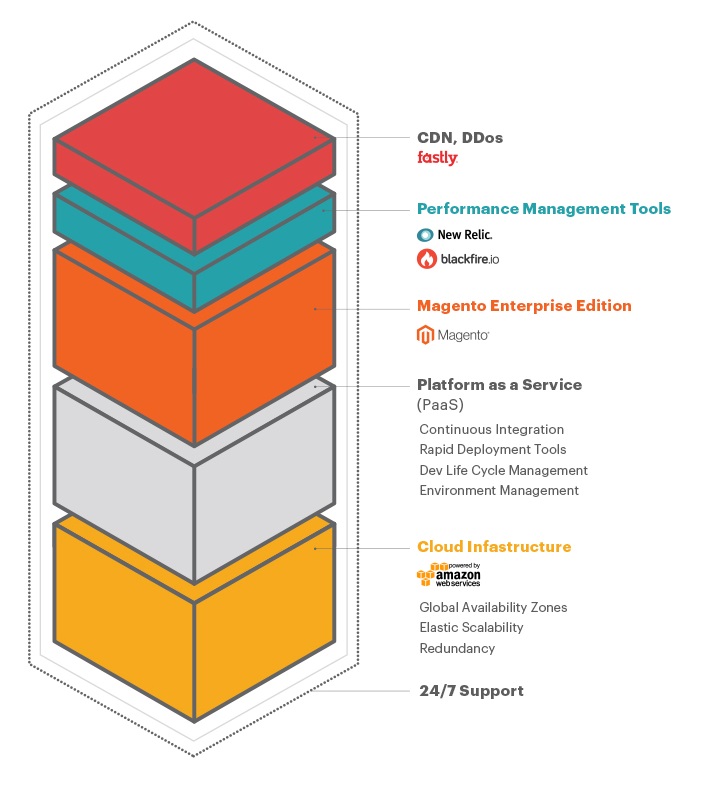 Currently, finding a strong, robust hosting environment for Magento platforms has been a challenge for some users. With ECE being built on Amazon's proven Web Service infrastructure (AWS) this concern should be alleviated for many.
The benefits of ECE will place it as the premier option for anyone who is – or currently looking at – Magento for their e-Commerce platform including elastic scalability, PCI compliance, global availability, and automated patching.
Key Takeaways
The service is currently scheduled for a release in May of this year, with no pricing information available as of yet.
Here are more details on Enterprise Cloud Edition and what it brings to the table. More information is also available on Magento's website here.
Features

Full Magento 2 EE License
Fastly CDN and DDos protection with generous bandwidth allowances
Unrestricted versions of New Replic APM Pro and Blackfire.io Enterprise
PaaS continous cloud integration tools
Included surge capacity included (Peaks are covered)
24×7 support
Will launch with the code base of Magento EE 2.0.5 with release updates to follow
Pricing

No pricing available until May
Based on GMV and compute baseline traffic
Benefits

All in one cloud – backed by Magento
One contract, one price
24×7 application & infrastructure support
Monitoring & dynamic environment scaling
Pro-active patch application
Solution partner friendly
Capabilities

Triple redundancy
Multiple availability zones
High automation, low touch support
Ability to run multiple instances on non-production sites
Rapid environment cloning
Consistent, repeatable release management processes
Compatible with all M2 Marketplace Extensions
Access to source code
No limitations on customizations
Flexibility to move back to previous hosting environment
Tools

New Relic (Real-time performance issue notification)
Black fire (Code/SQL Query performance profiling)
Fastly (CDN & DDoS Protection)
Stay tuned as we will provide updates once more information is released.
Interested in Magento e-Commerce? Talk to us today.