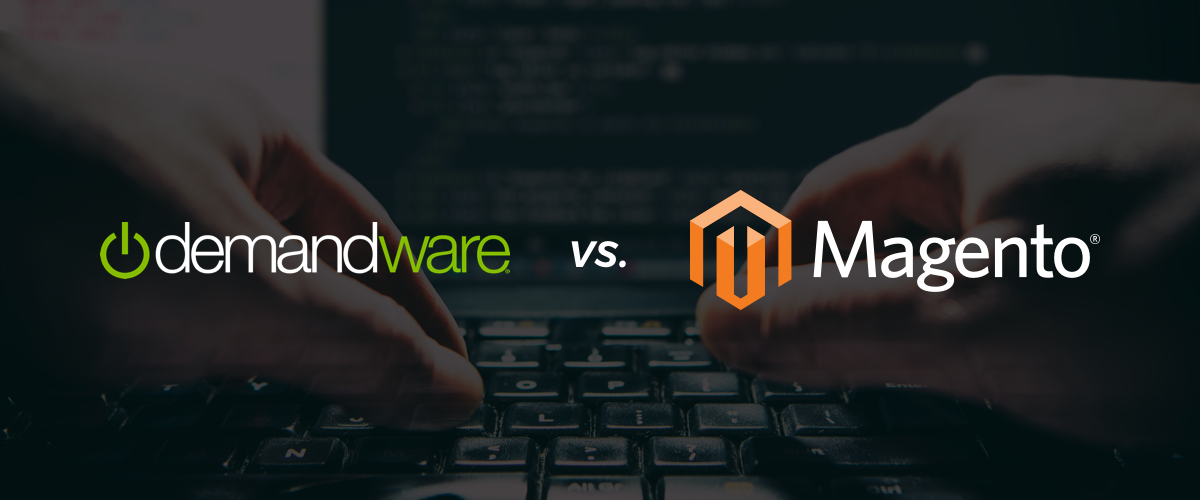 Planning your eCommerce shop takes an in-depth look at your unique needs, target-customers, and desires. Here is a basic breakdown of the most important aspects of Magento vs. Demandware (now called Salesforce Commerce Cloud) to help make your decision simpler.
Magento:
Pros:
100% customizable and easily modified.
Affordable, with flexible pricing options and a free version (Community Edition).
Huge community of over 250,000 users and 150,000 developers.
Cons:
Can be difficult to create a site, although there are plenty of helpful resources to simplify the process.
Uses third-party hosting.
Takes time to set up a customized site.
Demandware:
Pros:
Cloud-based platform, with no need for third-party hosting or ongoing IT maintenance.
Provides new ways to engage with customers across channels.
Support from employees to keep your site up-to-date (can upgrade up to eight times per year).
Cons:
Difficult to customize and requires Demandware's approval.
Expensive compared to Magento, with target clients that make between $20 million and $500 million. License fee based on commission of online sales, between 0.75%-1.25% or more.
Not for use with B2B companies, as it cannot meet bulk ordering requirements or customization needs.
Timeline
Magento: How long does it take to build a Magento site? According to most users, this answer can vary significantly according to unique elements and requirements. Some merchants got their sites up and running in a matter of weeks, while others need months or even years to complete their robust sites.
Demandware: How long does it take to build a Demandware site? Demandware uses the speed and agility of the cloud to make the creation process more efficient. Launch new sites quickly and easily. With the right certified partner, a merchant can create a site and integrate ideas in a fraction of the time.
Customization
Magento: Allows merchants to completely customize their shops from the ground up (using open-source coding) and scale their online stores as they grow and evolve. Make changes to your site quickly and seamlessly with help from over 150,000 developers.
Demandware: Merchants require approval for any major site customizations. There are customization restrictions in place, as well. If you need complete control and customization, Demandware might not be right for you.

Magento vs. Demandware Price
Magento:
Up-front costs: Free with Community Edition
Total cost of ownership: Free up to $200,000+ depending on site, host, and add-ons. Average price is $18,000 per year.
Demandware:
Up-front costs: Standard licensing fee. Averages $400,000 for implementation.
Total cost of ownership: Demandware takes a percentage of sales. Comes with a heftier price tag of around $700,000 per year.

Ease of Use
Magento: Robust and complex open-source application that might not be ideal for non-developers. However, there are thousands of Magento developers, like Forix's Magento managed support team, available to assist merchants thanks to the enormous community. Online shop customers love Magento, and rate it as one of the simplest and most intuitive eCommerce platforms in the world.
Demandware: Relatively simple to set up since Demandware strictly limits the amount of customization merchants can use. Must install the plugin, choose or import site preferences, upload your catalog, and add product links and widgets. Demandware offers a personalized shopper experience, with data points and analytics for customization.
Features
Top features of Magento:
Ultimate flexibility and customizability
Open-source software
Website, catalog, and order management
Analytics and reporting
SEO
Top features of Demandware:
Cloud-based applications
Digital commerce
Predictive intelligence
Order management
Point-of-sale management
Support
Both Magento and Demandware offer 24/7 merchant support via phone, live chat, and email. Magento also comes with a 24/7 community forum.
Community Size
Magento:
Developers: 150,000+
Integrations: More than 30 available integrations, including eBay, social media platforms, and many more.
Demandware:
Developers: Hundreds
Integrations: Omni-channel platform, with integration for Salesforce and many others.
Design Flexibility
Magento: Total design flexibility, with hundreds of free templates and thousands of others for reasonable fees. Focused on customization, with total manager freedom.
Demandware: Very restrictive designs and template changes. Demandware must approve design change requests before merchants can implement them.
Stores Powered/Popularity
Magento: Around 250,000 stores powered. Big names that use Magento include Coca-Cola, Nike, Ford, and Samsung.
Demandware: Around 50,000 websites powered. Big names include Adidas, Puma, and PetSmart.
Mobile Capabilities
Both Magento and Demandware come with mobile HTML5 pre-integrated, making mobile sites easy and fast to create. Mobile for both is responsive and comes at no additional cost.
Still interested in learning more about either platform? Reach out to the Magento managed services team at Forix to hear more.