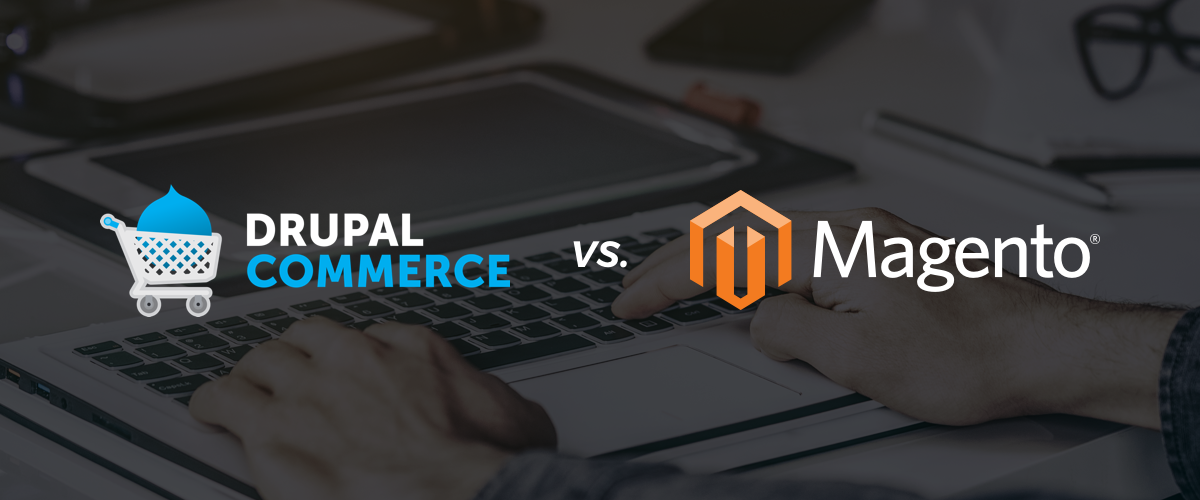 Magento vs. Drupal Commerce can be a difficult choice for merchants starting online shops. You want the best possible experience for your customers, but you also need a platform that's right for you. Use this comparison article to make your decision a little easier. You can also reach out to the Magento managed services experts at Forix to learn more.
Top 3 Pros and Cons for Magento vs. Drupal Commerce
The top three advantages supporting Magento as the right choice are 100% design flexibility, affordable prices (plus a free version!), and more than 150,000 innovative developers at your disposal for assistance. The top three disadvantages in choosing Magento can be the ongoing costs (if you don't choose the free version), the advanced knowledge required for setup, and the gigabytes of RAM Magento's PHP uses (if you don't use the right server).
The top three advantages behind Drupal Commerce are the foundation of an enterprise CMS, high customizability, and that it's free to use. Some of the disadvantages can include a confusing number of options (16,000 different modules), lack of compatibility with older software, and its lack of user-friendliness for non-developers. Knowing which option is right for your company depends upon your unique team, needs, and talents.
Timeline
How long does it take to build a Magento site? The answer to this question can be two weeks to two years depending on the merchant you ask. Since Magento offers such a wealth of customization opportunities, the length of time it takes to finish a site depends entirely on how robust the site needs to be. With help from one of Magento's expert developers, sites can be up and running in a fraction of the time.
How long does it take to build a Drupal Commerce site? Drupal Commerce isn't the most DIY-friendly site, and therefore may take longer for beginners. There is a seven-step system to setting up a new Drupal eCommerce website available through Commerce Kickstart that can help expedite the process. Without tools like this or other assistance, it can take months to properly launch a Drupal Commerce site.
Customization
If one of your main concerns is the customization of your eCommerce site, Magento will likely be your best choice. Magento is one of the most customizable eCommerce platforms in the world, with 100% flexibility and all of the control in the merchant's hands. Drupal is also highly customizable in the sense that it offers more than 16,000 add-on modules to personalize a site. Both sites are open-source platforms, meaning with a bit of coding knowledge or help from a developer most merchants can create the individualized sites they desire.
Magento vs. Drupal Commerce Price
Magento has a free version called Community Edition. Its non-free version runs about $14,000 per year on average, with flexible pricing options. Drupal Commerce is also free to use.
Ease of Use
Magento used to have a reputation as a difficult platform for merchants to set up, but all that changed with the release of Magento 2.0. This version makes it significantly easier for merchants to set up new stores, even at the beginner level. Magento's front-end user interface is clean and simple, with intuitive shopping features for optimal user-friendliness.
Drupal Commerce isn't the easiest site to use if you're a beginner. It's an open-source framework like Magento, but it operates on Drupal 7. If you have older software, you might not be able to run Drupal's systems. With so many modules to choose from, building a site can seem daunting without professional help. Drupal is well-known for connecting to social platforms, making it easy for customers to review, chat about, and share their experiences with your products on social media.
Features
Top features of Magento:
Customizable web design
Customer service and support
Shopping cart and order management
Mobile commerce
SEO
Marketing
Analytics and reporting
Top features of Drupal Commerce:
Adaptable and customizable
Scalable
Community support
Social network integration
Multiple language and currency support
Mobile optimization
Support
Magento offers customer support through live chat, email, and via phone 24 hours a day, seven days a week. Drupal Commerce has a unique community of people that add to the program instead of an official support system. There are many volunteers that claim to be Drupal experts on the site's help forums, as well as in-house developers (Commerce Guys) available to answer questions 24/7.
Community Size
Magento boasts an "army of innovators" 150,000 developers strong. Drupal also has in-house developers available to help, although not as many as Magento. Magento has integration available with more than 30 popular platforms, including eBay and Facebook. Integration availability for Drupal is Xero, SagePay, Twitter, Facebook, Pinterest, and a few others.
Design Flexibility and Mobile Capabilities
Magento is 100% flexible in terms of designs and templates. Drupal Commerce is also flexible, letting users build their sites to meet their unique needs. Both platforms are mobile-ready. Magento's sites are automatically fit for mobile, while with Drupal users must choose a mobile-friendly base theme.
Store Popularity: Magento vs. Drupal Commerce
More than 250,000 merchants have launched their stores using Magento. Major brands using Magento include Ford, Nike, and Samsung. There are currently over 66,700 live sites using Drupal Commerce, including Lush, Fooda, and Dickies.
If you'd like to learn more about either platform from expert developers, reach out to the Magento managed services team at Forix today.