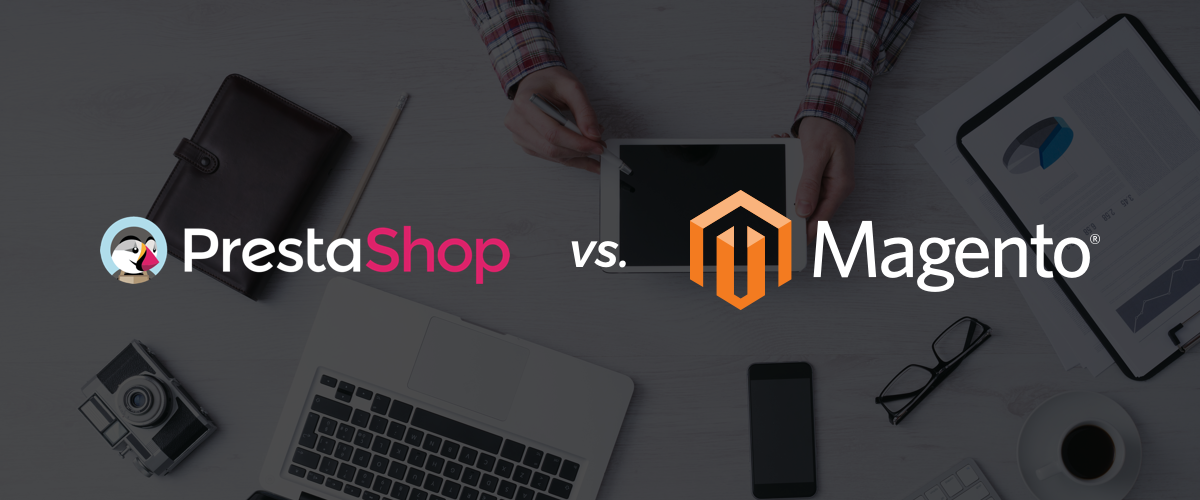 Magento is the world's most customizable eCommerce platform, with the greatest number of unique and tested extensions. PrestaShop is one of Magento's greatest competitors, as the two platforms have a lot in common. Both are open-source solutions with more than 250,000 shops each. Deciding between the two can be difficult. Use this Magento vs. PrestaShop platform comparison to guide your choice. You can also reach out to the Magento managed services experts at Forix any time.
Pros and Cons: Magento vs. PrestaShop
A pros and cons list can quickly give you the most attractive and least attractive facts about Magento and PrestaShop, so you can compare and contrast which might be best for your online shop. While there are many potential benefits and drawbacks for each platform, here are the top three pros and cons for each:
Magento
Pros:
Largest and most versatile selection of extensions.
Enormous support system of developers and certified experts.
Affordable, with free Community Edition option and low costs of ownership.
Cons:
Can take a long time to create a fully customized shop.
Might need help from developers for more robust sites.
Must pay third-party hosting site fees.
PrestaShop:
Pros:
More than 300 built-in features.
Web template system to enable store customization.
Add-ons marketplace where third-party developers can sell themes and modules.
Cons:
Limited scalability.
Not the most professional designs for large-scale stores.
No official support team.
Timeline
How long does it take to build a Magento site? It takes some users as little as two weeks to launch their Magento sites. However, more complex and customized sites can take months.
How long does it take to build a PrestaShop site? With a variety of customizable options and no official support team to offer assistance, launching a PrestaShop site can take days to months depending on the knowledge of the user and type of site desired.
Customization
It's easy to customize your site on both Magento and PrestaShop. Both Magento and PrestaShop offer more than 5,000 additional add-ons and modules to customize a site. Both platforms also give complete control to merchants when it comes to customization and making changes. Magento, however, has 150,000 developers to help merchants customize their unique sites.
Pricing
Magento vs. PrestaShop Price:
Magento: Free, open-source platform with zero up-front costs with the Community Edition plan. More sophisticated plans can cost $14,000 and up per year depending on the price schema chosen.
PrestaShop: Free, open-source platform with zero up-front costs. No monthly fees or commissions on sales.
Ease of Use
Both platforms offer intuitive, user-friendly interfaces that make it easy to create, design, and launch sites. However, both are also robust platforms that can be overwhelming for beginners or non-developers. Magento comes with ample assistance, tools, and features to make back-end processes easier.
The front-end of Magento is one of the most popular among online shoppers, with a recent interface upgrade that boasts a distraction-free checkout process and many other advantages. PrestaShop offers add-ons that make the front-end interface more intuitive for shoppers. The interface is simple and guides users through catalogs easily.
Features
Top features of Magento:
Customizable
Web design
Order and shopping cart management
Mobile commerce
Product management
SEO
Marketing and analytics
Top features of PrestaShop:
Customizable shop themes and add-ons
Mobile commerce
Designer guide
SEO
Analytics and reporting
Support and Community Size
Magento: Magento proudly offers 24/7 phone support, as well as live chat and email forums 24 hours per day. There is also a large Magento community with forums available to offer assistance. The community size of Magento is impressive, with more than 150,000 professional Magento developers out there to help customers.
PrestaShop: One of the main drawbacks of PrestaShop is that it does not come with an official support team for users. There is no dedicated team of professionals available to help merchants. There is, however, an active community of users with more than 700,000 members available to answer questions.
Integrations
Magento: Over 30 integrations supported, including Interprise Suite ERP, embedded ERP, eBay, Facebook, PayOne, and BankPayment.
PrestaShop: Around 16 integrations available, including eBay, PayPal, WordPress, Amazon Marketplace, and Facebook.
Design Flexibility
Both platforms are relatively equal in terms of flexibility. Both use open-source coding platforms to give users complete control over the design and templates of their sites. Again, Magento may cater to design requests better due to the large support system available. If you're a developer, however, you might not have a problem with PrestaShop.
Popularity of Magento vs. PrestaShop
Both platforms boast userships of 250,000-plus active shops. Magento's customers include Burger King, Coca-Cola, Ghirardelli, Zumiez, Nike, Ford, and Samsung. PrestaShop's big names include McDonald's, Ma P'tite Culotte, and Pop-line.com.
Mobile Capabilities
Magento and PrestaShop automatically provide mobile-responsive default templates at no extra cost or time to install. Both platforms give merchants seamless, intuitive mobile-first web design options to enable mobile purchases.
Which Is Right for You?
If you're still having trouble deciding between Magento and PrestaShop, ask yourself what your goals for the future look like. If you need a platform that you can easily grow with as your shop takes off, with help from experienced developers, reach out to the  Magento managed services experts at Forix.