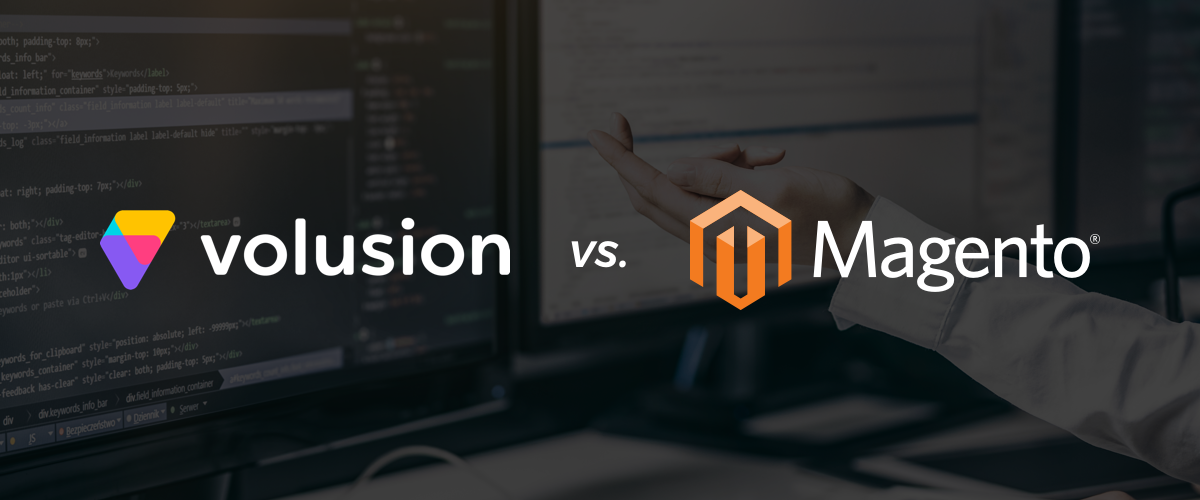 Magento and Volusion are two of the most renowned web platforms for creating eCommerce websites and stores. Both present scalable, customizable options managed by teams of dedicated experts. How can you tell which is right for your business? Use this Magento vs. Volusion platform comparison outline to help you make the decision. You can also reach out to the Magento managed support team at Forix to learn more.
Top 3 Pros and Cons for Magento vs. Volusion
Magento Pros:
Robust and 100% customizable platform.
Easily scalable to encourage store growth.
Comes with an army of 150,000 developers ready to build.
Magento Cons:
Can be too robust for small or simple stores.
Can get pricy depending on the package chosen.
Requires a third-party hosting provider (self-hosted).
Volusion Pros:
Easy to set up and launch.
Offers four different affordable payment options.
Hosting provided by Volusion.
Volusion Cons:
Not a lot of global support.
Doesn't offer B2B features.
Performance can be limited due to the hosting environment.
Timeline for Setting Up a Site
How long does it take to build a Magento site?
It can take just 14 days to set up the simplest, most basic version of a Magento site using pre-existing templates and extensions. If you need to customize your site with extra modules and add-ons, development can take longer.
How long does it take to build a Volusion site?
Volusion offers a 14-day free trial, enough time to build a basic online store. However, like Magento, more robust or custom sites can take weeks, months, or longer to complete.
Customization: Magento vs. Volusion
With Magento, merchants get the world's most versatile collection of customized and tested extensions. This means 100% customizability and 100% flexibility in your design. Magento comes with ready-made extensions to use, or you have the option of designing your own. Magento's customization capabilities are unmatched in the industry.
Volusion is best known in the eCommerce community for self-generated in-house services, along with assistance to help merchants succeed. Merchants can explore their creativity with help from experienced professionals. Use an intuitive site-builder and a library of themes. Customize page layouts, product descriptions, and other elements using drag-and-drop. If you require differentiation as a mid-complexity to complex shop, Volusion might not have the templates or features you require.
Magento vs. Volusion Price
Magento: Three pricing packages. The Community Edition plan is free, the Start Plan starts at $2,000 per month, and the Pro Plan starts at $3,417 per month. Total costs of ownership average $14,000 per year.
Volusion: Four pricing packages, all billed either monthly or annually. The mini starts at $15 per month (or $13.50/month annually), the plus at $35 per month (or $31.50/month annually) the pro at $75 per month (or $67.50/month annually), or the premium at $135 per month (or $121.50/month annually).
Ease of Use
The new and improved Magento 2.0 prioritizes ease of use for merchants. Even beginners, who used to struggle with setting up their Magento sites, can now launch sites with ease. There are plenty of admin tools and features at your disposal, and if you do run into issues, there is an enormous support system of professional developers available to assist you. Volusion is easy to set up, but often requires help from one of the site's professionals to build a more customized and robust site. Both Magento and Volusion prioritize a simple, intuitive shopper experience.
Features
Top features of Magento:
Customizable web design
100% flexibility
Analytics and reporting
Marketing tools
Built-in SEO
Order management
Customer service
Catalog management
Top features of Volusion:
Store builder and web design
Marketing tools
Secure hosting
Build-in SEO
Customizable storefronts
Social media integration
Support
Magento offers around-the-clock support (24/7) for merchants on the phone, via live chat, and through email. Volusion also offers a support team for merchants 24/7. Support is available online with the Mini Plan, and over the phone with the Plus Plan. You get priority support with the Plus Plan, and a dedicated Account Manager with the Premium Plan.
Community Size
Number of developers available:

Magento: 150,000+
Volusion: Unknown

Integration availability:

Magento: Interprise Suite ERP, embedded ERP, eBay, BankPayment, and 27 others
Volusion: Amazon, Facebook, PayPal, FedEx, and 32 others

Number of third-party platform extensions:

Magento: More than 700 for payments
Volusion: Unknown
Stores Powered/Popularity of Each Platform
Magento: More than 250,000 stores opened using Magento, with popular clients that include Nike, Ford, Samsung, Rosetta Stone, and Olympus.
Volusion: Volusion powers about 180,000 stores worldwide, with popular clients that include Techie Warehouse, Teadog.com, and Matcha Source.
Mobile Capabilities
Mobile-ready sites come free with Magento Community Edition. The cheapest edition of Volusion, the Mini Plan, comes with Mobile Commerce, which supports Android, iPhone, and Windows Mobile.
To learn more about either platform, reach out to the Magento managed services experts at Forix today.