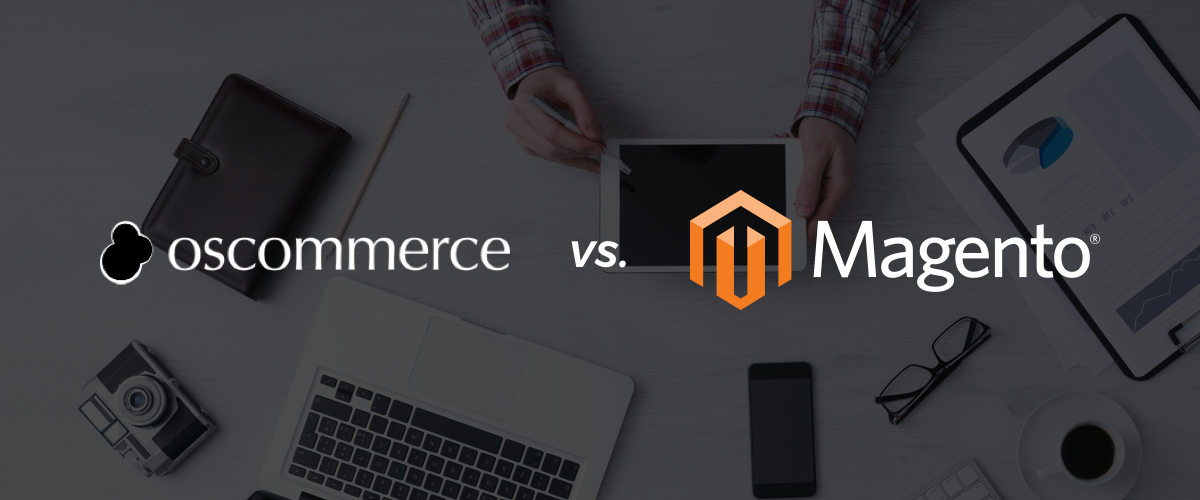 Magento is a sophisticated, robust eCommerce platform with the largest selection of customized and tested extensions in the world. OsCommerce is simple and straightforward, providing the bare bones of what a shop owner needs to go online. Compare Magento vs. osCommerce to see which is the right fit for your store. You can also reach out to the Magento managed support team at Forix to learn more.
Top 3 Pros and Cons for Each
Magento:
Pros:

Free to set up and host your online store (with Community Edition).
Outstanding customizability and design flexibility.
Enormous support system with over 150,000 seasoned developers.

Cons:

Add-ons and other packages can get expensive.
Might be more robust than a small/simple store needs.
Requires third-party hosting.
OsCommerce:
Pros:

Free to set up and host your online store.
Owner has total access and control over the site.
Simple and easy to use for beginners or small stores.

Cons:

Not always reliable or scalable.
Not many features or functional solutions.
Requires third-party hosting (except the self-hosted Online Merchant v2).
Timeline
How long does it take to build a Magento site? As little as two weeks with the most basic functions, or longer with more custom and robust sites. How long does it take to build an OsCommerce site? Many can get the job done in just one day, as these sites are very simple.
Customization  
Both sites are open-source, meaning users can modify templates to their hearts' content without infringing on licensing rights. Magento offers 100% design flexibility and more custom extensions than any other platform. OsCommerce also encourages customization, with thousands of add-ons available. Both sites give complete control to the site owner.
Pricing 
Magento vs. osCommerce price: both are free if you choose Magento Community Edition. Opt for one of Magento's other plans and you will pay $2,000 per month for the Start Plan or $3,417 per month for the Pro Plan. Domain names, hosting plants, and some add-ons in osCommerce will cost money.
Ease of Use
Magento's latest edition is the most user-friendly yet. It now makes building a site easy, even for non-developers. There is a simple toolkit and other helpful features to enable fast and effective shop building. There are also plenty of developers and a large community available to assist shop owners if necessary. Magento's front-end storefronts are beautiful and responsive, with distraction-free shopping carts and plenty of other top-notch features.
OsCommerce makes building a site and maintaining it simple. The platform comes with a set of basic tools you can use to set up your store, add products, and facilitate a smooth checkout process. Simply integrate the osCommerce software on any web server with PHP and MySQL installed. Once you build your site, you'll have total access and control over the site and your data. OsCommerce's front-end includes premium features such as an intuitive shopping cart, full search capabilities, and order history.
Features
Top features of Magento:
Catalog management
Inventory management
Highly customizable options
Advertising and marketing tools
Analytics and reporting
SEO capabilities built in
Customer service/international support
Top features of osCommerce:
24/7 technical support
Live Chat for your customers
Ready-to-go templates
Administration tool back-end
Unlimited products and categories
Support for digital and physical products
Product/customer statistics
Multi-currency support
Support
Magento offers 24/7 phone support, live chat, email, and a community forum. OsCommerce offers support through an inquiry system on the forum, for which you need a free community forum account. There are over 1.6 million postings in the osCommerce community forum. There is also a Live Chat room where you can directly talk with other community members.
Community Size
A main reason Magento has become so popular in the eCommerce industry is because of its "army" of 150,000 developers with years of knowledge and experience with the platform. You can't find this type of support from seasoned professionals anywhere else. Magento has more than 250,000 sites worldwide, with top names such as Ford and Samsung as clients. It integrates with 31 different payment methods and has more than 6,500 third-party extensions (and growing).
The osCommerce community has 299,156 members and 20,699 live sites. Top-name clients include Vivid Racing, MP Biomedicals, LLC, and Universal Church. There are three major developers working with osCommerce: ozEworks, SystemsManager Technologies, and SoloMono. This platform can integrate with PayPal, G2A PAY, and SagePay. OsCommerce currently has 8,713 add-ons the community has uploaded.
Mobile Capabilities
Magento's sophisticated system automatically makes merchant sites mobile-friendly, responsive, and intuitive for an outstanding mobile user experience. There is no extra cost for mobile capabilities. OsCommerce does have a mobile version available in the apps marketplace, but one must download it and add it to an already responsive store. This may require upgrading your store. It will require extra time, but the app itself is free.
If you'd like to learn more about either platform, reach out to the Magento managed support experts at Forix today.