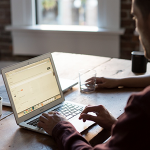 Full-Time
Base + Commissions (Avg Annualized Comp. $65K+)
Position Title: Lead Development Specialist
Position Type: Full-Time
Compensation: Base + Commissions (Average Annualized Compensation: $65K+)
Location: In Office, Portland, OR
Hours: 9am to 6pm, M-F
Do you have previous experience developing prospects into clients?
Have you had previous experience in high-volume communication or call centers?
Do you have the ability to communicate efficiently in a clear manner both orally and in writing?
Are you able to handle multiple tasks and activities at one time and still maintain a high level of accuracy?
Are you detail-oriented with strong organizational and self-management skills?

If you answered yes to these questions, we want to hear from you!

Our Company:

Forix is a rapidly growing, 100-person digital agency in SW Portland that specializes in e-commerce websites, informational sites and native mobile application development. With a strong emphasis in the Magento platform, Forix has quickly become a frontrunner in providing custom commerce solutions and has been identified as one of the top eCommerce agencies nationwide.

The company culture is energetic, creative and very friendly. We all work hard, but we have fun too. If you are a high-integrity individual, who is very focused on growing your career, this is the place to do it. We want to be the very best in the at what we do, and we need people who truly want to be the best at what they do to keep helping our team grow.

Position Overview:

We are developing a brand new program for reaching out to candidates who already own and operate Magento e-commerce sites to see how we can drive more revenues and grow their companies. This is a tremendous opportunity for somebody looking to start a career in business development, and getting their foot in the door of an operation that is growing fast. Opportunities are abundant, and the chance to be promoted is available to anyone who can deliver great results.

Forix is seeking to add a lead development specialist join our business development team. The best fit for this position will be an assertive professional who can engage prospective clients regarding our web, eCommerce, and mobile development services with the goal of setting up an appointment to speak to one of our business development team members. You will NOT be responsible for closing sales or developing the prospect into an account. This would be passed along to a senior development person to turn into a client. You would receive commissions on each prospect that is converted into a client.

Primary Duties of this Position:

Phone and email contact with prospective clients (averaging 50-60 calls/day)
CRM management with Zoho
Being friendly and engaging with potential prospects.
Coordinating with senior sales team members to develop prospects
Carries daily activity quota and weekly productivity metrics
Successfully identify candidates for our service offerings, and pounce on the opportunities.

Qualifications:

Prior call center experience is very helpful.
Technical aptitude is a must. You will be conversing with people who live and breathe interactive technologies, so if you love technology (and live it and breath it in your personal life) you'll love this.
Some college is helpful, but work related equivalents are acceptable too.
The ability to be trained quickly, and then turn around and apply it fast.
Professional conduct and quality speaking skills are essential to a role where you make contact by phone.
Must be a good writer when communicating via email.
Having worked for or with creative or interactive agencies is a plus
Screening criteria will include:

Criminal background check
US citizenship or valid work visa
Solid references from previous work managers

Benefits:

We're committed to maintaining a motivated, positive work environment with people who share, demonstrate and live our core values. Take pride in working for a company that lives its core values, defines and pursues its vision and mission/purpose, and continually provides tangible value and benefit to its employees and our clients.

Some perks and benefits of joining our all-star team include:
Bottomless coffee
Ping Pong
Company lunches and outings
Snacks and beverages
Open office space environment
Career development events and trainings
Flex Fridays
Conveniently located near the Goose Hollow MAX station

If Offered Full-Time Employement with Our Firm, Benefits Include:
Employee medical coverage
401K
Vision
Prescription plan
Vacation and sick time
Account management bonus program

What's Next?

If this position sounds like a good fit for you, please send your resume and cover letter as a Word doc attachment to the email address provided in this post. Please include your salary requirements and why you think you would be a good fit for our company in your cover letter. Responses not including this info will not be considered.


Forix is an equal opportunity employer and does not discriminate on the basis of race, religion, color, sex, age, national origin, disability, veteran status, or any other classification protected by law.