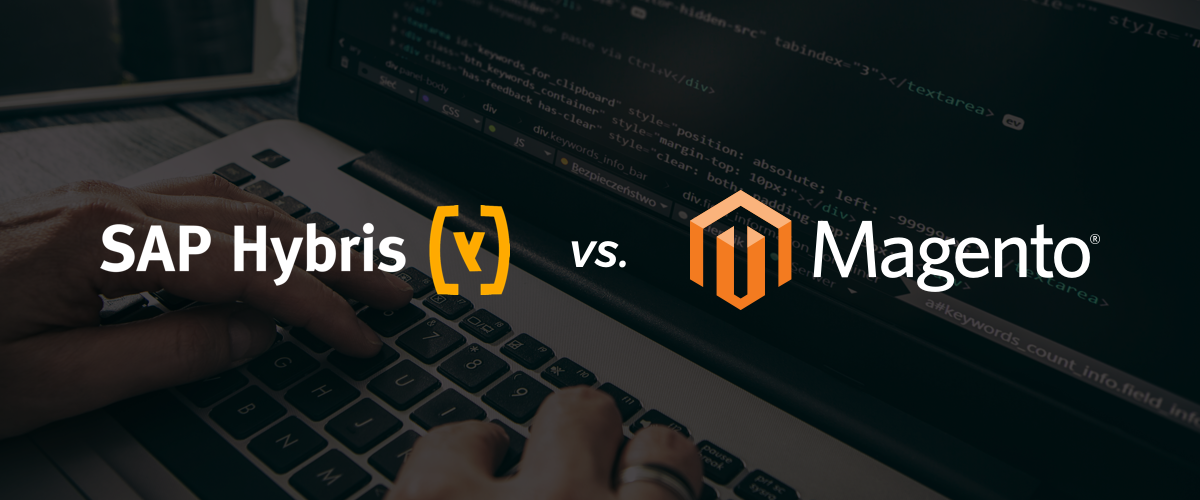 Magento is one of the most popular eCommerce platforms in the world, with more than 250,000 active shops. But with so many different eCommerce platforms on the market, how do you know which one is right for your business? In this blog, we'll compare Magento to Hybris, an open-channel cloud and SAP (Systems Applications and Products) platform, and a top competitor to Magento. Let's dive in!
Magento Pros and Cons
Magento pros:
Merchants can customize every element of their shops using Magento's open-source codes, 5,000-plus add-ons, and help from developers.
Enormous community of more than 150,000 developers, 300 partners, and 250,000 active users available for excellent support.
Magento's Community Edition plan is free to start and maintain! There are no up-front costs with this eCommerce plan.
Magento cons:
Because Magento is such a robust platform, it can be difficult for beginners or non-developers to use. However, there are plenty of resources available for assistance.
Magento relies on third-party hosting. Merchants have to find third-party hosts that work for them.
It can take weeks to years to create a Magento site due to the platform's complexity and flexible architecture. Comes with a learning curve.
Hybris Pros and Cons
Hybris Pros:
Omni-channel eCommerce solution, meaning merchants can sell online, in-store, and on mobile.
Customer engagement. Product Content Management (PCM) module that helps merchants create engaging customer experiences, with the product at the heart of the transaction.
Ease of use. Seamless business functionality through a central Order Management System.
Hybris cons:
Prices start at around $50,000, which is more expensive than many other eCommerce platforms to begin with.
There are fewer than 1,000 Hybris users today, with a small community size and not many developers available for high-quality implementation.
Data capabilities. Weak reporting and analytics features undermine the usability of Hybris for many merchants.
Magento vs. Hybris FAQ's
How long does it take to build a Magento site? Two weeks at a minimum; years at maximum. Varies drastically according to unique needs.
How long does it take to build a Hybris site? Weeks to months or years depending on the site and unique user needs.


Price

How much does it cost to run a Magento site? Free with Magento Community Edition (no up-front costs and free or low cost of ownership); $25,000 to $200,000 or more for other versions.
How much does it cost to run a Hybris site? Quote-based, however prices tend to start around $50,000 and increase from there. Up-front costs and total costs of ownership will vary.
Features

What are the top features of Magento? Customizable design, product management, SEO, marketing, analytics/reporting, multiple sites, simplified shopping cart, support, and mobile commerce.

What are the top features of Hybris? Catalog management, omni-channel B2B and B2C, SEO, multi-channel commerce, sales performance management, sales force automation, and agile charging.

Community Size

How big is the Magento community? Huge. There are more than 250,000 users, help forums, 5,000+ third-party platform extensions, and more than 150,000 developers familiar with Magento. More than 30 integrations available, including eBay, Facebook, and Twitter.
How big is the Hybris community? Small. There are currently under 1,000 active users, forming a modest platform community. Integrations from Data Hub, ERP, CSV, ImpEx, and SAP CRM are available.

Customization

Can I customize my Magento shop? Yes. Magento is highly flexible, giving merchants absolute control over the sales channel. Merchants can customize by knowing code, hiring a developer, or using Magento's ready-made extensions. Optimal design flexibility with templates.
Can I customize my Hybris shop? Yes. Hybris is also a robust system, so requires time and expertise to personalize. There is a multi-layered system with benefits and limitations for customization. Requires understanding of Model, Service, and Jalo tiers. Reasonable design flexibility with templates.
Ease of Use

How easy is Magento to use for merchants and customers? For merchants, Magento can be difficult for non-developers to use to its full potential. Luckily, there is a great deal of support and features to make creating and managing a shop simpler. For customers, Magento is one of the easiest and most intuitive eCommerce platforms, with a distraction-free checkout experience and simple, user-friendly interface.
How easy is Hybris to use for merchants and customers? For merchants, Hybris is similar to Magento in that it's robust and requires at least basic coding and development knowledge. Tools such as Smart Edit can make the back-end easier to use, although it's not a complete do-it-yourself solution. Hybris customers can save repeat purchases, buy in bulk, and use personalization features to make checkout easier.

Support

What kind of support does Magento offer? 24/7 phone support, live chat, email support, and a huge community forum.
What kind of support does Hybris offer? 24/7 email and phone support only.
And the Winner is…
Magento is overall a more popular eCommerce platform, catering to big names such as Nike and Ford. While Hybris boasts users such as the Chamberlain Group and Volkswagen, its community is smaller.
Still interested in learning more about either platform? Reach out to the Magento managed services experts at Forix to hear more.