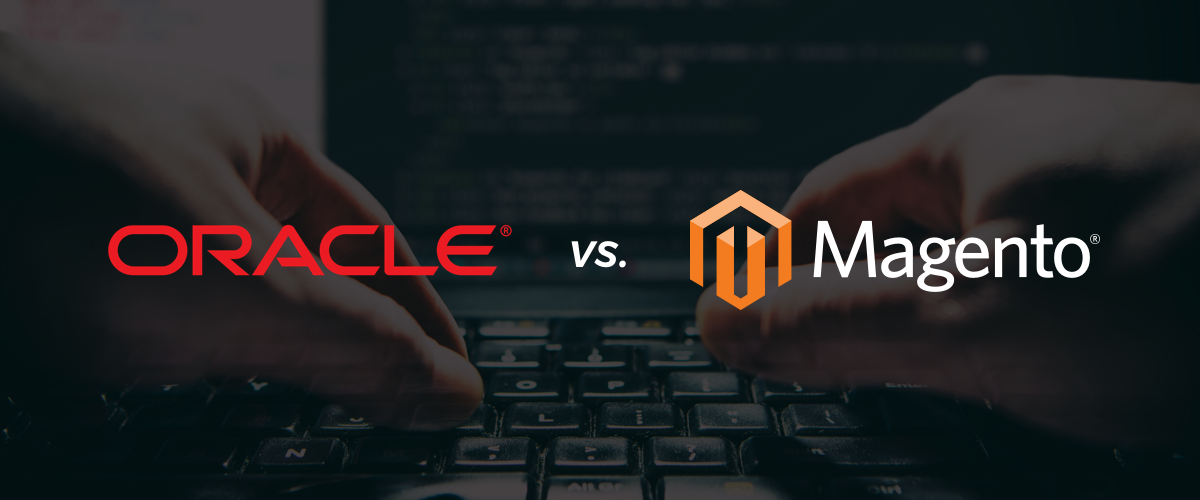 Magento is a global leader in eCommerce, with robust site capabilities and the largest selection of customized and tested extensions in the world. Oracle Commerce is a cloud platform service known for using high-end capabilities to personalize the way businesses engage with their customers. Find out which is right for your business with more information about each platform's main specifications. You can also reach out to the Magento managed services team at Forix to learn more.
Top 3 Pros for Both
Magento:
Flexibility and customizability of sites.
Community Edition is free to use.
Thousands of seasoned professional developers to help merchants.
Oracle:
All-in-one cloud platform.
Secure and efficient hosting services.
Flexibility and scalability, with insights to grow.
Top 3 Cons for Both
Magento:
Third-party hosting required.
Can require assistance from a developer.
More robust sites can get expensive.
Oracle:
Must pay a fee to use the program.
Learning curve involved; may need to hire a professional.
Designed for corporations rather than small businesses.
Timeline for Both
How long does it take to build a Magento site? Magento websites can take two weeks to two years to completely build. The timeline depends upon the customizations and add-ons required for the website. A simple site won't take long, but a more complex, intuitive, and robust one could take several months to finish. Working with a developer can speed up the process.
How long does it take to build an Oracle site? Oracle's Web Commerce plan has a web store template included, making it fast and easy to launch new stores. The SaaS cloud platform makes it easy to launch websites and storefronts that are feature-rich and responsive. Out-of-the-box features can mean site-building in just a matter of days. It will take longer if the merchant needs additional customization or add-ons.
Customization
Magento is famous for customization. With an open-source framework and more than 6,500 third-party extensions ready to go, it's easy to make a site completely unique. Magento offers the world's largest database of proven and customized extensions. There are no limits on the customizability of Magento's sites.
Oracle Commerce also prioritizes customization. Merchants can access many tools themselves, without help from a developer, to take control over their businesses. Merchants can answer many of their needs with Oracle's long list of solutions and products, organized into applications (Service Center, Experience Manager, etc.).
Magento vs. Oracle Price
Magento is free to use with its most-popular version, Community Edition. Add-ons and extra modules might cost money. There are other plans available through Magento at $2,000 to almost $4,000 per month, if merchants need extra features and support.
Oracle Commerce has two all-in-one cloud packages: Usage and Revenue Share. Oracle operates on a licensed-based pricing scheme, with annual billings and renewal. Oracle gives prices on a quote basis depending on the details of the business and individual eCommerce site needs.
Ease of Use
With its new and improved software update, Magento no longer troubles new users with complex site-building. While some may still require help from a professional developer, many merchants can now build sites on their own, thanks to Magento's user-friendly tools and ready-to-use extensions. If you require further customization of your site, things can get more difficult and require expert assistance.
Oracle is similar to Magento in that beginners can typically handle site-builds on their own if they stick to the most basic setups using out-of-the-box templates. If a merchant needs a more robust and flexible site, he or she can do so with help from a developer. Both Magento and Oracle create powerful shopping carts and beautiful, intuitive sites with plenty of design customization for excellent user experiences on the front end.
Features
Top features of Magento:
Add-ons, extensions, and customization
24/7 customer service
Product and catalog management
Multi-website capabilities
Analytics and reporting
Marketing features
Built-in SEO
Top features of Oracle:
Search and navigation
Shopping cart management
Catalog management
Multi-site capabilities
Transaction and settlement tracking
Social media activities
Built-in SEO
Support
Magento merchants get exceptional, 24/7 support through many different channels: phone, email, and live chat. There is also a huge online community of fellow merchants, developers, and experts available to offer answers to questions. Oracle offers live chat support as well as phone support around the clock.
Community Size
When merchants choose Magento, they join one of the largest eCommerce platform communities in the world. Magento boasts an "army" of 150,000 innovative developers ready and willing to help merchants any way they can. Magento also has more than 300 expert partners. Magento can integrate with 31 different payment options, including Interprise Suite ERP and embedded ERP. Magento has a wealth of third-party platform extensions, at more than 6,500.
Oracle also has a large community, with 30 million daily users and more than 70,000 enterprise tenants. There are thousands of seasoned developers available to assist new merchants. Users can integrate with Oracle's Open Development and JAVA API. In this way, merchants can connect Oracle Commerce to all apps and systems they currently use.
Design Flexibility
Design templates with Magento are 100% flexible, giving users complete control over the look and feel of their online stores. Magento is highly design-focused, with more ways to customize a site than any of its competitors. Oracle also lets users change a site's architecture and interface with a great deal of flexibility, giving brands full control over how they use site tools.
Popularity of Magento vs. Oracle
Magento boasts more than 250,000 websites launched, with big-name clients such as Nike, Harper's Bazaar, Olympus, and Samsung. Oracle Commerce has 430,000 customers worldwide. Notable clients include Mr. Price, Retail World AE, and Fox Head Inc.
Mobile Capabilities
Both Magento and Oracle prioritize mobile-first website design, with built-in responsive and mobile features such as flexible grids and layouts. Neither site charges extra for these mobile capabilities, nor do they take extra time to implement.
If you'd like to learn more about either platform, reach out to the Magento managed support experts at Forix today.